In addition to universal products that allow to create advertising for almost any industry, we offer our clients solutions dedicated to specific enterprises. These are the highest quality LED pharmacy crosses. Their characteristic shape means that anyone who is looking for a pharmacy will see its sign from afar and easily find it.
As a producer of modern visual promotion systems, we can offer our clients extremely wide configuration options for pharmacy crosses. They are most often controlled via the Internet connection using a special remote control, thanks to which there is no need to remove the structure to change the display settings.
Depending on the customer's needs, we offer a wide range of options, including various functions, such as adjusting the display brightness (automatic or manual) or setting specific messages for specific hours, as well as days of the week.
LED crosses for one of our European sales representatives.
The set contains crosses with different screens and applications from mono to full color with a pixel size from 4 mm to 25 mm.
control: LAN, WiFi.
mounting: dedicated handles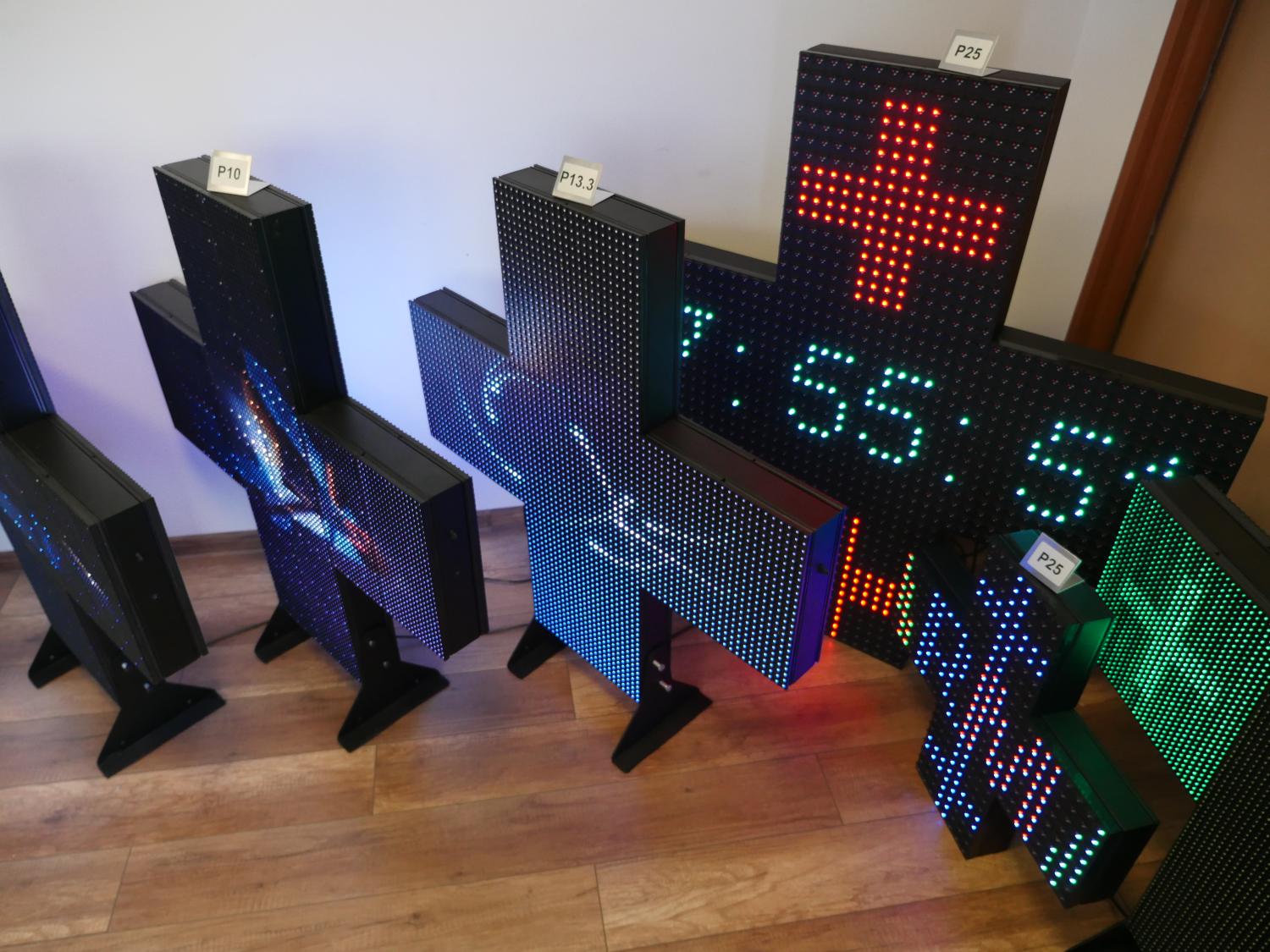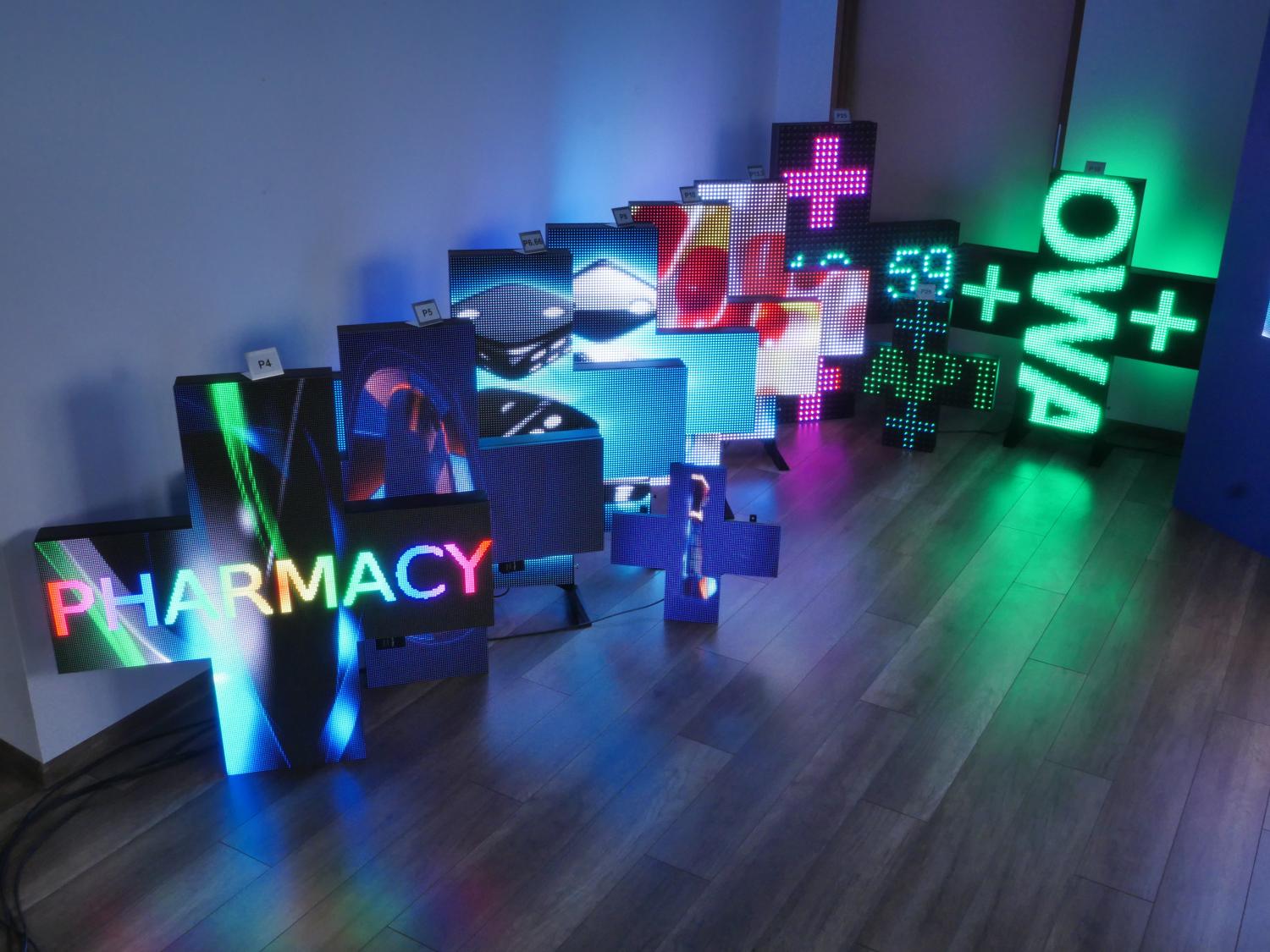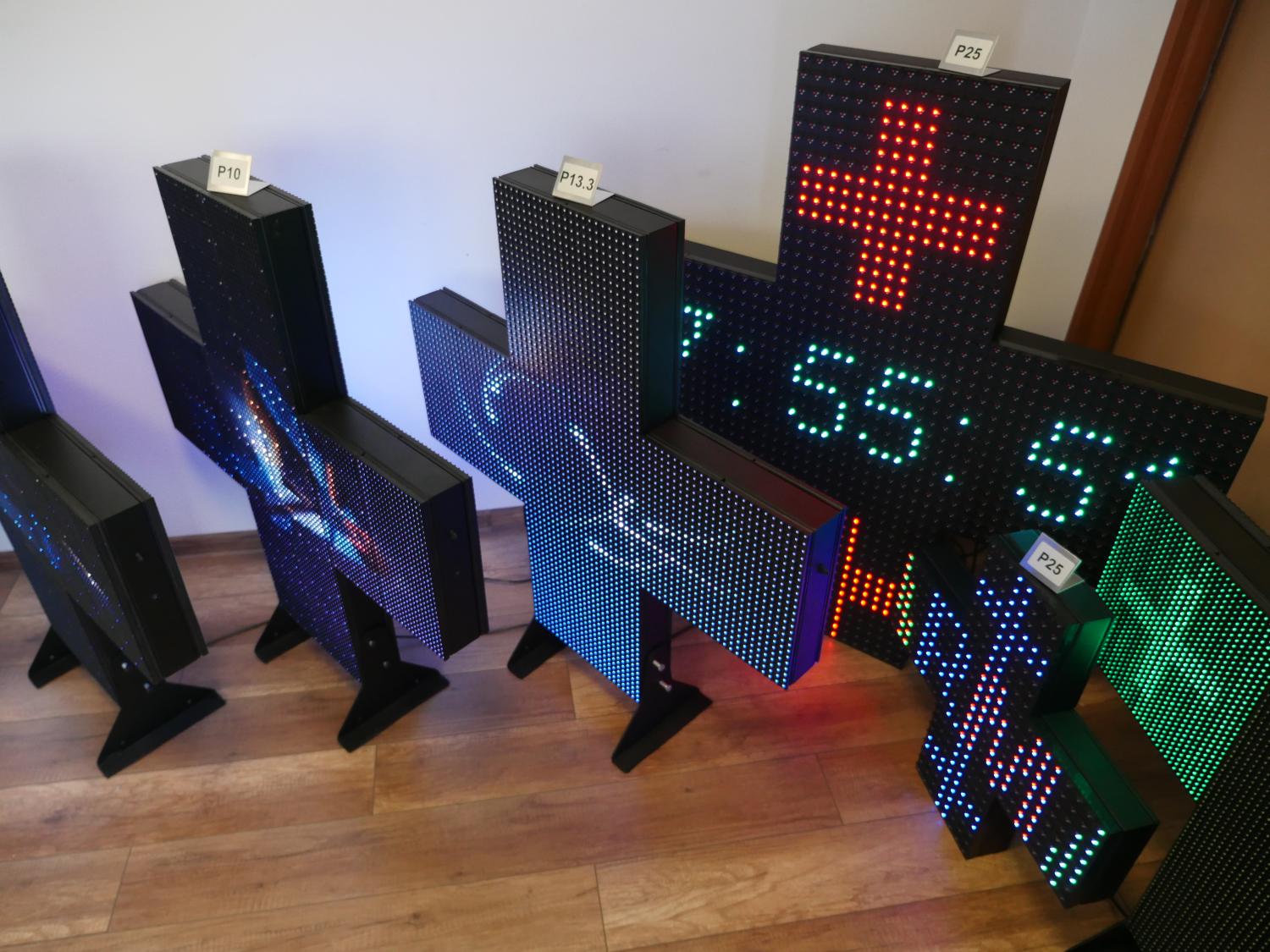 ---
Main features of PHARMACY CROSSES
High resolution

od 4mm do 25 mm

Displaying information

In one or many lines.

Single, multi or full-color crosses.

Include clock, calendar,

thermometer, and humidity sensor!

Modular construction.

Enlargeable. Frontal service!

High luminosity of LEDs.

Manual and automatic brightness control.

Branded components: power supplies,
diodes and drivers.

Turns ON/OFF at a definite time.
Energy-saving.
Weather proof.
Frontal service!
24 months warranty.

Mask with a roofing for each diode!

Product of Poland.

Numerous text and graphics effects

for each display region.

SLIM casing!
Inne cechy KRZYŻY APTECZNYCH
Computer-controlled via LAN as a

standard or Wi-Fi as an option.

Manualna lub automatyczna

regulacja jasności.

Device control
with Android
ex. smartphone!

Use all text fonts installed

on your computer.

The ability to control from any place

in the world via the Internet.

Time-definite and day-definite

displaying of messages.

Remote control.

Capacious FLASH memory can

hold up to 5 hour-long projects.

Automatic synchronization time from

the program on the computer via LAN or WiFi.

Incrased durability.
---
Advantages of PHARMACY CROSSES
Readability of displayed content.

The high density of LEDs in conjunction with image shading and high brightness ensures high quality displayed text and images. Thanks to this, presented content is clear and readable even from a long distance.
Large opportunities.

Numerous effects, with the ability to display information even in a few lines or regions, in any language, animated text, graphics and backgrounds, dynamic and static border of display provide significant opportunities to display information. The total number of possible combinations is very large. As a result, advertising is not boring, it's constantly changing and it's dynamic so attracts the attention of spectators. The software allows you to load the selected image and video file formats.
Modular casing.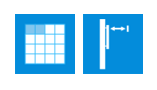 The units are built as a modular constructions, which allows to obtain the desired display format. You can expand the device or divide the big screen on several small ones, for ease of transport and installation. Displays have modules mounted from the front, so all maintenance can be performed from the front and in the case of a fault it is not necessary to remove the entire device.
Attractive features.

In addition to the text and graphics information, on the boards you can also display temperature, date and time. Such data are attractive because they strongly pay attention, and people interested in these parameters waiting for the desired information read the advertisement. The board has an automatic switching on and off with preset times so that can optimize more the cost of operating related to the consumption of electricity. Other advantages of displays is the ability to set a specific brightness at predetermined time, or optional automatic brightness control based on measurements from the sensor. Without a doubt, great opportunities is also the option to display selected information at specified times. This opens up the perspective for users of our devices to create daily or hourly informational campaigns and promotional activities. You can also display other information on business hours, and others out of the opening hours. When working with designing advertising useful functions are also variable speed effects, adjust the stop time and the appropriate location of texts.
Quality of devices.

Offered devices are high quality. They are made from lightweight and durable materials for optimum durability and resistance to weather conditions. The LEDs are protected with plastic masks with protective roofs on each diode, which provide protection against mechanical damage and improve the contrast of the display. All tables are CE certified.
Several ways to control.

LAN - as standard displays have a power cord with plug RJ45. With it, you can connect the device directly to the computer or turn it to the LAN, and then send the advertisement. If you connect the device to the network, it is possible to program device from any computer on the network.
Wi-Fi - Another way of communications is connection through Wi-Fi. With this method of communication you can program the display wirelessly via Wi-Fi. Display generates its own Wi-Fi network to which you must connect to be able uploading data to display. By default, the network is protected by a password. It is also possible to configure the Wi-Fi to automatically connect to another network within its range, e.g. to an existing network in the company, which will enable the management screen from any computer on the local network.
USB Flash Drive - Advertising is preparing in the program on your computer. Then export it to a file on your memory stick. Connect the USB stick with a project file that contains the ad then connect to the USB port on the display's cable. After plugging the media to the USB display, driver reads the data from the flash drive and saves them in the internal memory of the display. After copying the project, you can unplug the flash drive from the USB socket and close the connector.
IR remote control - Simple to control the operation of the display can be realized using the IR remote control. In contrast to previous methods of remote control has limited functionality and short range. With its use, you can turn on and off board, adjust the brightness and switch to specific projects in the spot.
Made in Poland, Made in EU.

The devices are designed and manufactured in Poland. Choosing Polish brand You support our technical thought and work in Poland and European Union. Our products are appreciated all over Europe and the World, because of their quality, functionality and capabilities. Easy access to spare parts, fast service, the opportunity of support even after the warranty period are undoubted
advantages and the reason of selection the Polish unit.
Technical support.

Choosing devices from our offer you gain access to the phone and e-mail support, which works for support of our customers.
---
Available colours

PHARMACY CROSSES – single sided
Model
Dimensions
Resolution
Weight
Average
power consumption

KA1 1-colour


96 x 96 cm
10 mm
18 kg
40 W

KA2 7- colour


60 x 60 cm
25 mm
9 kg
10 W

KA3 7- colour


77 x 77 cm
16 mm
13 kg
35 W

KA4 7- colour


120 x 120 cm
25 mm
21 kg
35 W

KA5 SMD 7- colour

48 x 48 cm
5 mm
6 kg
40 W

KA6 SMD 7- colour

96 x 96 cm
10 mm
14 kg
40 W

KA7 SMD 7- colour

96 x 96 cm
8 mm
14 kg
40 W
PHARMACY CROSSES – double sided
Model
Dimensions
Resolution
Weight
Average
power consumption

KA1D 1- colour

96 x 96 cm
10 mm
24 kg
80 W

KA2D 7- colour


60 x 60 cm
25 mm
12 kg
20 W

KA3D 7- colour


77 x 77 cm
16 mm
20 kg
70 W

KA4D 7 - colour

120 x 120 cm
25 mm
44 kg
70 W

KA6 SMD 7- colour

96 x 96 cm
10 mm
18 kg
80 W

KA7 SMD 7 - colour

96 x 96 cm
8 mm
18 kg
80 W
---
Software to manage displays.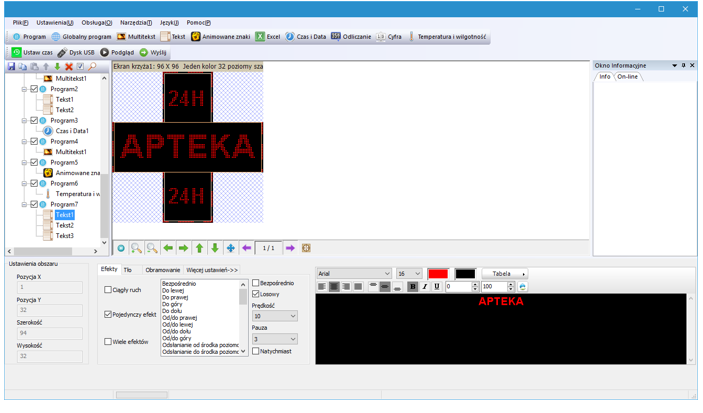 A program to control displays is a simple tool designed for displays manufactured by LEDTECHNOLOGY. Its basic functions are creating and editing advertising spots and communication with displays.
Main features:
- Creation and editing of spot divided into programs, which is making it easier to make changes and project management,
- The ability to dividing the display into regions and showing the information which have their own settings like effects, speed, time or border,
- The possibility of addiction display content from the day of the week and hours
- Easy to create animations with text and / or graphics,
- The ability to create animations using dozens of prepared and customizable effects
- Preview of created animation
- Adding to the spot special information showing current parameters: time, date and temperature (Configurable position of displayed parameters like size and type font)
- Different types of composition: automatic (toggle), manual (remote switching)
and weekly (switching depends on the set day and time).
---
Visual drawing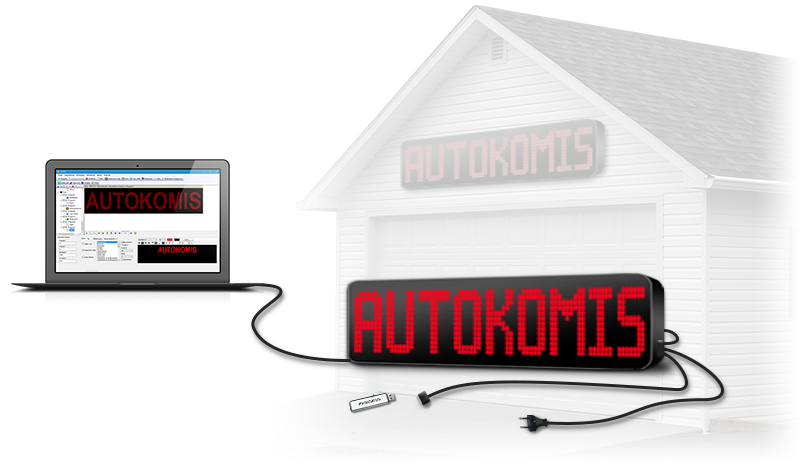 ---
Exampled technical drawing
Pharmacy crosses KA1 D