The products offered in this category can be installed both outside and inside the building. The LED clocks available in our range are characterized by high resolution of displayed content. They have the function of counting the time up and down. They are extremely easy to use and can be controlled from a radio remote control, an Android device or a computer via LAN or WiFi. They also provide extensive personalization options, including by choosing the right font and can generate beeps.
Depending on your needs and preferences, you can choose from one-, multi- and full-color boards. Our brand's thermometers and LED clocks have a modular design, thanks to which they can be in any form. To ensure the high quality of our products, we give a two-year warranty on them.
---
Main features of CLOCKS and THERMOMETERS.
High resolution - 10mm pixel pitch
Countdown and countup.

Single and multi-colour.

Work in a sport and advertising mode.

Modular construction.

Enlargeable

Multiline displaying.

Branded power supplies and

components.

Include clock, calendar , thermometer,

and humidity sensor!

High luminosity of LEDs.

Manual andautomatic brightness control.

Turns ON/OFF at a definite time.
Energy efficient.
Weather proof.

Front service.

24 months warranty.

Mask with a roofing for

each diode.

Product of Poland.
Other features of Clocks and Thermometers.
Remote control.

Automatic/Manual brightness

control.

Control from the device
with Android system

Use all text fonts installed

on you computer.

Computer-controlled via LAN as a

standard or Wi-Fi as a option.

The ability to control from any

place in the world via the internet.
Readability of displayed content.

The high density of LEDs in conjunction waith image shading and high brightness ensures high quality displayed text and images. Thanks to this, presented content is clear and readable even from a long distance.
Large opportunities.

Offered displays can be single, multiple or full color. It gives you the ability to choose the color of individual information. Screens can display both modes – scoreboard or advertising. The user has the option to easy switch between these modes.
Modular casing.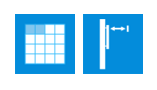 The units are built as a modular constructions, which allows to obtain the desired display format. You can expand the device or divide the big screen on several small ones, for ease of transport and installation. Displays have modules mounted from the front, so all maintenance can be performed from the front and in the case of a fault it is not necessary to remove the entire device.
Attractive features.

In addition to the text and graphics information, on the boards you can also display temperature, date and time. Displays can be easily switch on and off with radio remote controller
Quality of devices.

Offered devices are high quality. They are made from lightweight and durable materials for optimum durability and resistance to weather conditions. The LEDs are protected with plastic masks with protective roofs on each diode, which provide protection against mechanical damage and improve the contrast of the display. All displays are CE certified.
Control ways.

LAN -
as standard displays have a power cord with plug RJ45. With it, you can connect the device directly to the computer or turn it to the LAN, and then send the advertisement. If you connect the device to the network, it is possible to program device from any computer on the network.
Wi-Fi - Another way of communications is connection through Wi-Fi. With this method of communication you can program the display wirelessly via Wi-Fi. Display generates its own Wi-Fi network to which you must connect to be able uploading data to display. By default, the network is protected by a password. It is also possible to configure the Wi-Fi to automatically connect to another network within its range, e.g. to an existing network in the company, which will enable the management screen from any computer on the local network.
Made in Poland, Made in EU.

The devices are designed and manufactured in Poland. Choosing Polish brand You support our technical thought and work in Poland and European Union. Our products are appreciated all over Europe and the World, because of their quality, functionality and capabilities. Easy access to spare parts, fast service, the opportunity of support even after the warranty period are undoubted advantages and the reason of selection the Polish unit.
Technical support.

Choosing devices from our offer you gain access to the phone and e-mail support, which works for support of our customers.
---
Available colours

Clocks and thermometers in single colour P10 technology
Exampled Dimensions

Model
Dimensions

Character height

Resolution
Weight

Average
power consumption

ZT101
32 x 16 cm
16 cm
32 x 16 px
3 kg
4 W
ZT102
64 x 16 cm
16 cm
64 x 16 px
4 kg
8 W
ZT103
96 x 16 cm
16 cm
96 x 16 px
5 kg
12 W
ZT104
128 x 16 cm
16 cm
128 x 16 px
6 kg
16 W
ZT202
64 x 32 cm
32 cm
64 x 32 px
6 kg
16 W
ZT203
96 x 32 cm
32 cm
96 x 32 px
8 kg
24 W
ZT303
96 x 48 cm
48 cm
96 x 48 px
13 kg
36 W
ZT304
128 x 48 cm
48 cm
128 x 48 px
17 kg
48 W
ZT305
160 x 48 cm
48 cm
160 x 48 px
21 kg
60 W
ZT405
160 x 64 cm
56 cm
160 x 64 px
28 kg
80 W
ZT406
192 x 64 cm
56 cm
192 x 64 px
34 kg
96 W
ZT407
224 x 64 cm
56 cm
224 x 64 px
39 kg
112 W
---
Exampled technical drawing
ZT203 REG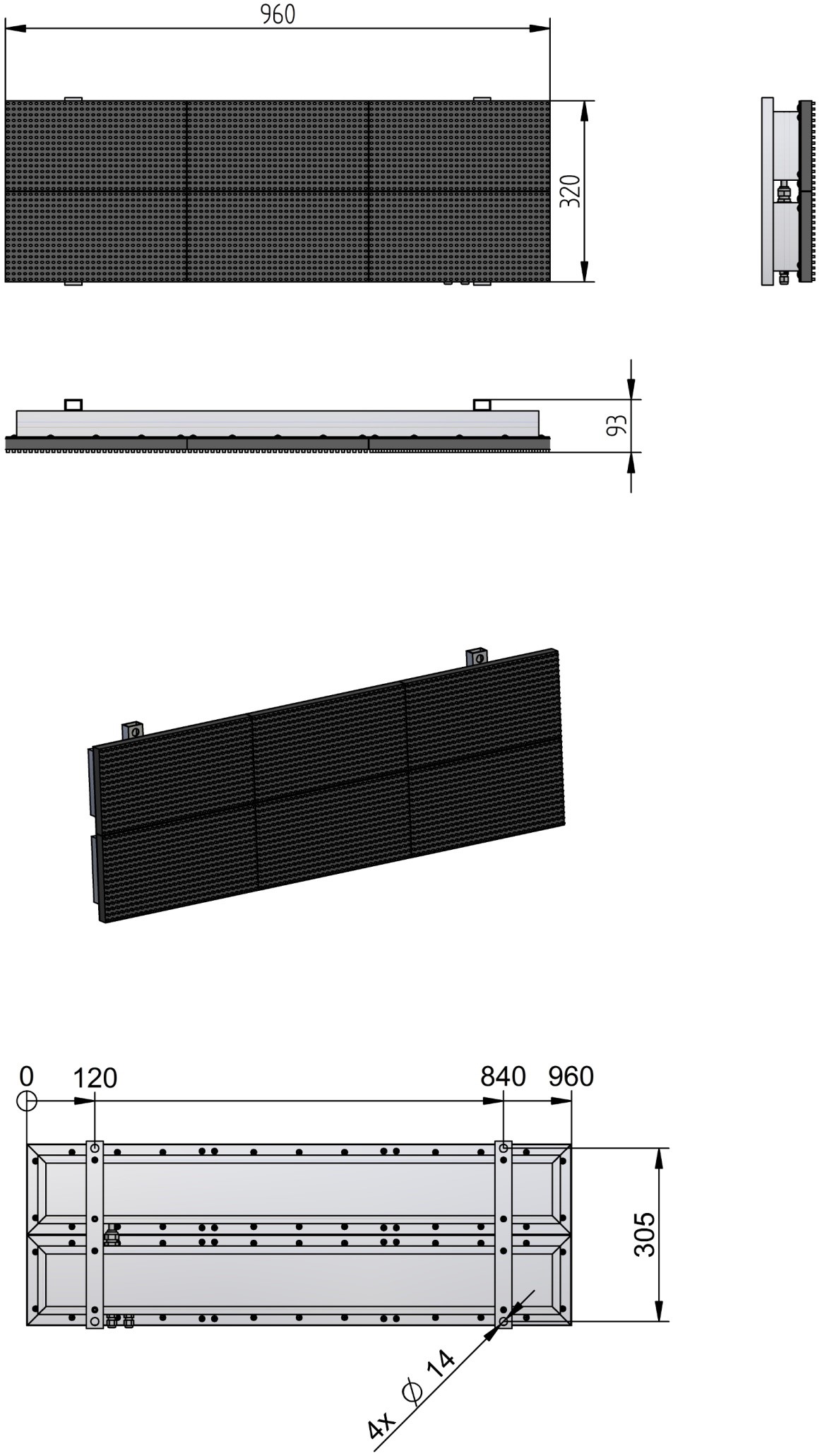 ZT203 CNC